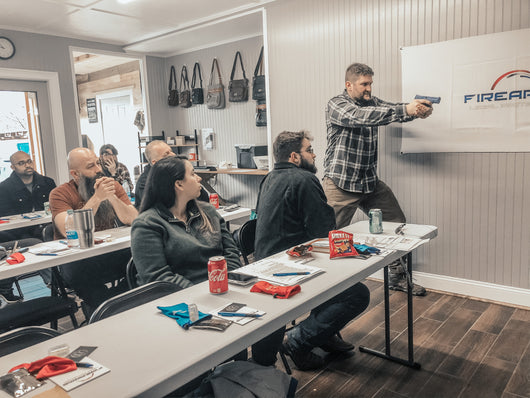 SC CWP Chesnee, SC
Regular price $100.00 Sale
Class Start Time: 9:00 AM-3:00 PM (6 Hours)

Location: 290 Old Bear Creek Road, Chesnee, SC 29323
This class is required for someone who desires to carry a concealed weapon legally in the state of South Carolina and its reciprocal states. Our team of Certified Instructors will cover all aspects of the state-mandated course. The course will consist of approximately six hours of instruction and qualification.  A 50-question written multiple-choice exam will be given at the end of the class and a 25-round qualification course will be conducted at the range. After successful completion, all required documents will be prepared and sent to the South Carolina State Law Enforcement Division.  This class fills up quickly.  Pre-registration is required. It is recommended that individuals taking this course have some basic handgun shooting experience though it is not a requirement. 

Preferred but not required:
Appropriate clothing for the weather. We shoot in the rain, if necessary.
25 rounds of ammunition and your firearm; If you do not own a firearm and purchase Kanex Tactical's ammunition, the gun rental is free.
Kanex Tactical is a manufacturer of firearm accessories to include the best concealable holsters on the market. If you haven't purchased a firearm for concealed carry or a holster, save your money and talk to us first.  
Required:

18 Years of age or Older
A current SC driver's license or other Government-issued photo
ID
Qualified non-resident clients must provide current property tax documentation found on the SLED website
Kanex Tactical Cost: $100
Finger Prints are done at identogo.com. You have to take the course prior to registering for identogo.com appointment.